Steam Deck is a handheld gaming console and is Engineered by Valve, Valve is a well-known company in the gaming industry and also owns Steam's online gaming store. Valve Steam Deck is going to be a strong competitor for the Nintendo Switch. Nintendo Switch is another popular handheld gaming console.
In the handheld and mobile gaming market, Steam Deck is going to launch with some of the best specifications available. Due to social media hype around this product, Valve Steam Deck is already popularized worldwide. The Valve Steam Deck will be available in the online market from December.
Pre Orders and Reservations
The reservations for the Steam Deck has been opened since July 16, reservation is opened for the US and few other countries. Valve is eventually going to expand the availability of the Steam Deck to the whole world but looking at the popularity, Steam Deck console shortage is guaranteed for at least in the first year.
There is a big demand for handheld gaming consoles worldwide, as there is only one another popular handheld console available on the market known as Nintendo Switch but it comes with very limited pc games while the steam library has no match it even beats Playstation and Xbox libraries and that is the reason valve is probably going to outsell all of the other consoles on the market.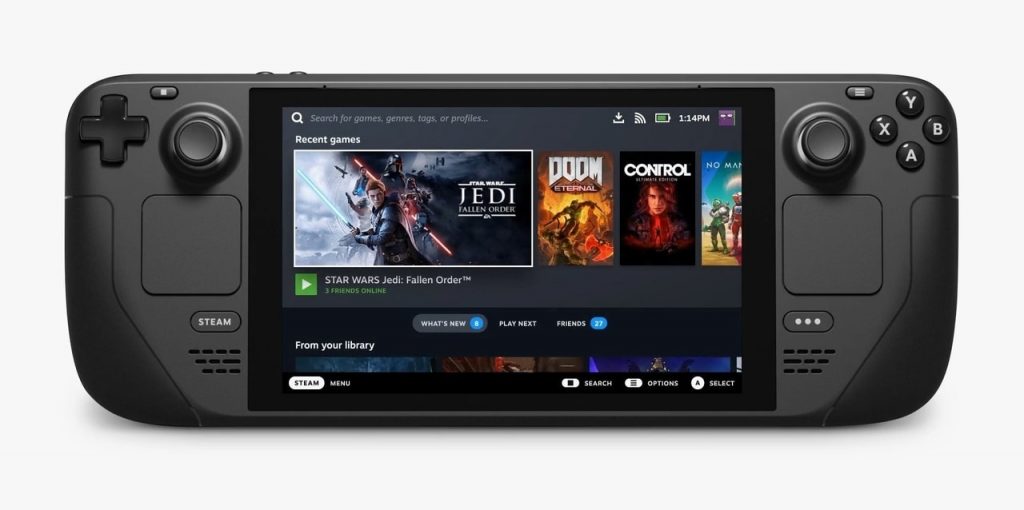 List of Valve Steam Deck specifications
It has the most powerful mobile APU that includes a quad-core Zen 2 AMD CPU with 8 threads and also AMD RDNA 2 graphics with highly efficient 8 compute units. It will be offered with 16GB of LPDDR5 RAM, and for storage, there will be 3 configurations and each will be priced differently.
There are tons of high-speed microSD cards available on the market and the steam deck will also be going to support microSD cards for storage. it comes with a 7-inch screen with a resolution of 1280×800 pixels and the Steam Deck is going to run 720p games and videos. What 720p gaming means for gamers, to give a perspective most of the ps4 and Xbox one games usually run around 720p so for a handheld it should give a proper immersive gaming experience. Steam Deck also has a gyroscope for motion controls in games. It also comes with a speaker and built-in microphones.
It also has a USB-C port and a headphone jack, Steam Deck is going to have a general D-pad, a View button, two thumbsticks, an Options button, for inputs ABXY buttons, the trackpad on each side, a handy Quick access bar, Steam button for accessing your games / online gaming store, L1 L2 L4 L5 buttons and R1 R2 R4 R5 buttons, turn the power on/off button, audio control buttons. A fan is placed at the bottom of the console and it will help in keeping the console cool. It will also support General Bluetooth devices for example audio devices and 3rd parties controllers. and None of these things are present on the Nintendo Switch.
Steam Deck also offers a Deck for external displays which you can purchase separately. Valve has promised to support all king of monitors and LCD and LED screens even it will support old CRT TVs, which require special adapters/converters And USB-C port will be responsible to handle all of that.
The Steam Deck offers a new version of SteamOS. It is a Linux-based system and uses Proton for gaming compatibility with Microsoft Windows games. Yes, Steam Deck will run most Windows games, but developers might have to fix and port them accordingly. As it's a Linux computer you'll be able to plug in a mouse, keyboard, monitor, or even install another operating system like full windows on it as well which is going to open a whole another world for the enthusiastic pc gamers.
This giveaway is held by PolkaFantasy.